Our friends, Andrea and Beto, who run the Casa Al Revez (The Upside Down House). They receive groups of volunteers who come to learn about sustainable living and to help in the community in some way. Andrea and Beto invited us to join the tour, which they give to the group when they first arrive. We were eager to see their project so happily accepted. We met the new group and followed Beto around while he explained the differences between their chickens and roosters, the vegetables they have been planting organically and all the tricks they use to stay organic. They refuse to use any chemicals, which is something I appreciate. We were there two and a half hours and I must say it went by fast. The sun was out today... and hot! It reached 27°C up where we live, so I imagine it was even hotter in Copey. We said our goodbyes until we see them again: the group will be visiting my English class on Tuesday and will be coming to our property on Thursday for a tour.

Andrea and Beto are originally from San José. They're city people. They moved to Copey when Andrea inherited her grandfather's farm. They didn't know anything about animals or plants. They started from scratch and have learned so much in the last five years. They're finding their stride... and their voice. We definitely can relate! It feels fantastic to be partnering with people with such great vision.

Powered by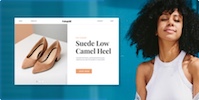 Create your own unique website with customizable templates.