As of September 1, the B&B is closed for the next two months. The rain is coming and it will get wetter before we reopen on November 1. The rain brings some advantages... it sure is lush and green around here. The good news is that we already have three confirmed bookings for next season 4.

We also caught and sold the last 147 big fish to our friend Roberto. Our 1,200 medium-sized trout will be ready to sell in two months or so. So, no guests and no fishing for two months. Maybe we'll just rest... we're not good at resting, but we'll give it a try.

Powered by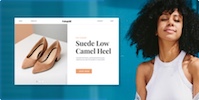 Create your own unique website with customizable templates.