Mary told us that she saw a quetzal this morning. She described the long, green tale and said it flew overheard and into a tree. She was so excited... I can't believe we missed it! We know they are on our property, and we've heard them, but Kevin and I have yet to actually see one. Lucky Mary!

Later, as I was coming back from putting the hens away, I looked up and saw a coyote in our pasture. He was strolling on the paths that Paloma has created. I ran to the house to get Kevin. Kevin quickly came out, but in the meantime, the coyote was startled and ran up the hill. Kevin got a glimpse of it just before it reached the top and disappeared into the brush. A good reminder of why we have to make sure the hen house is secure and well locked every night. Coyote's are more afraid of us then we are of them, like so many animals. Although they coexist in packs of six adults and their young, they usually only hunt in pairs. It's rare that we would see the whole pack at once, unless very close to their den. They also travel up to 20 kms in diameter of their den.

Powered by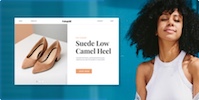 Create your own unique website with customizable templates.