When I retrieve the eggs from the hen house, I'm usually very careful, taking every precaution not to bang them together and break them. However, I've noticed they feel quite dense in my hands and not quite as fragile as the ones we used to buy from the Canadian grocery stores. When I crack our eggs on the side of the frying pan, I have to put more pressure against the edge than what I'm used to. And when I pack them up to give to Adriana and Roberto, they travel well in a bag. My hypothesis is that the shell of an egg becomes more brittle, hence more fragile, as it loses its freshness. I don't know this for a fact, but so far it's my experience

And lately, we learned that eggs should not be refrigerated unless they are a few months old. Since our eggs are always fresh, we now never refrigerate them. The reason the eggs we buy in local Canadian (or U.S. or European) store are refrigerated, is because by the time the eggs are shipped and shelved, they are in the process of losing their freshness. They are not bad or rotten, simply losing their optimum nutrient value. The global trend is to shop locally seems reasonable.

Powered by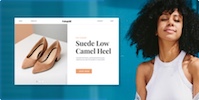 Create your own unique website with customizable templates.